Thank you for your comment!
Name

Zip

Addfress

Phone No.

E-mail

Your comment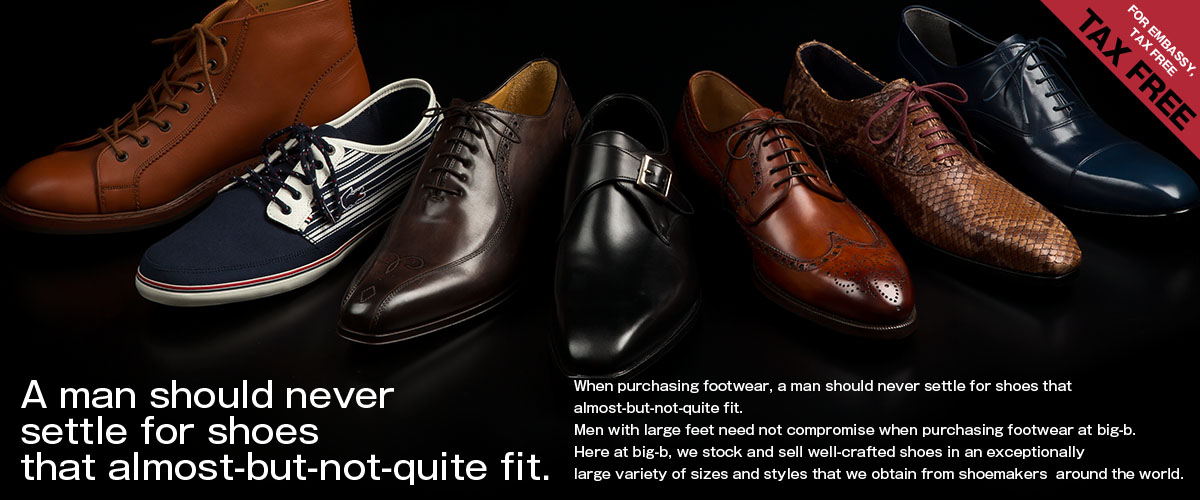 MESSAGE
"big-b" is THE store in Japan at which men with large feet can find and buy large shoes.
Our selection is unmatched and our staff is exceptionally knowledgeable. Visiting big-b, you will avoid the frustration you would encounter at any other shoe shop in Japan.
LARGE SIZE
Here are three do's and don'ts for avoiding shoes that almost-but-not quite fit and for finding shoes that do fit.
One: do know the shoemaker and size of any pair of your shoes that do fit.
Two: don't assume that the size of shoes from one shoemaker corresponds to that size of shoes from another shoemaker.
Three: do understand that shoe comfort is more important than shoe size.
Our staff will carefully measure your feet, and will take the time to explain the differences between the sizes and styles of shoes from different shoemakers.
SHOP

Business hours : 10:00-19:30 (Closed only January 1st and 2nd)
Address : 2-4-2 Tōkai-Building 1F, Nishi Gotanda Shinagawa-ku, Tokyo 141-0031
TEL : 03-3494-1192
FAX : 03-3779-0192